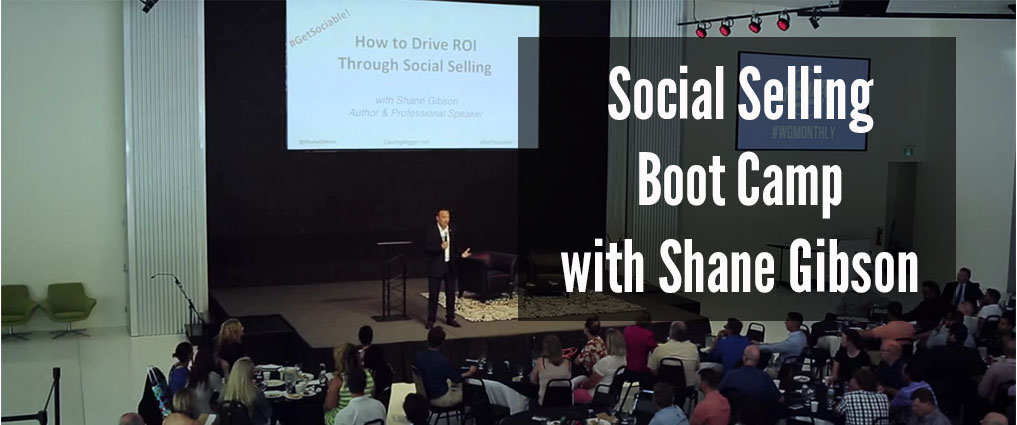 How to Drive ROI Using Social Media and Social Selling
Social media and social networks are becoming vital sources for prospecting, lead generation, client engagement and service. In fact a recent study of over 500 B2B sales professionals found that 72.6% of sales professionals that use social media outperformed their peers that don't.
In addition to social media literacy and insights today's sales organizations need a bullet-proof sales process and strategy as well. The line between sales and marketing as well as customer and vendor has become blurred. Today's sales and marketing process is collaborative and customer centric.
Your facilitator Shane Gibson was listed as #5 in the Forbes.com list of "The Top 30 Social Sales People in the World". He provided social selling seminars and consulting strategies for organization such as Ford, Corning Cable Systems, BMO Financial Group, ACL Systems, Microsoft, Paladin Security, Pivotal, Maximizer CRM and hundreds of car dealers and business owners globally.
He has also delivered his sales and social media seminars to over 100,000 people on stages in Canada, USA, India, Malaysia, Colombia, Dubai, Brazil, Chile and Southern Africa.  He is the author of Guerrilla Social Media Marketing, Sociable! and Closing Bigger the Field Guide to Closing Bigger deals making him unique in the marketplace having both a strong sales and new media background.
In this session Shane Gibson will share with you:
Part 1: The New Sales and Marketing Landscape
The Rules of Engagement in social media for sales professionals
How your social graph impacts your ability to close deals and generate leads.
Case studies from leading sales organizations
The new consumer decision-making model
Selling and marketing to today's business decision maker
Top social networks for social selling and lead generation
Part 2: Social and Collaborative Selling Tools
 Webinar selling
Online chat best practices
Using virtual sales agents
Leading Social CRM Tools
Hootsuite (for sales and marketing collaboration)
Using Sidekick and Yesware to improve email conversions
Video as a selling tool
Building your sales funnel with landing pages
Writing emails that work
Part 3: LinkedIn Selling and Recruiting
 How to build a media-rich LinkedIn profile that builds credibility and sells for you
How to prospect and make connections using LinkedIn
LinkedIn tips on saving time while keeping your target market
engaged
Setting up a professional business page
Tools and Tips for increasing your contact base
How to go from a product peddler to thought leader and trusted advisor using LinkedIn updates, groups, one-to-one conversations and personalized connections
How becoming an expert content curator can build credibility and influence on LinkedIn.
How to use LinkedIn Premium and LinkedIn Sales Navigator
Positioning yourself as an expert using LinkedIn Publisher
Part 4: Building an Integrated Sales Process
Timeless principles in successful selling
Using targeting to increase sales and social media ROI
How to become a master prospector and lead generator
Social search and social media monitoring
13 timeless tips to networking online and offline
"Frequency selling" to increase conversions
The art of asking questions
How sales and marketing can work together to win
Part 5: Putting it all together
 What to measure and reward when managing a social sales team
New technologies for managing sales and marketing projects
The key components to writing a social selling plan
Setting and achieving powerful sales goals
How to write a social sales plan for to make this year a social selling success
*Participants will leave with a social selling strategy/plan template as well as sample sales management templates and processes as take-home tools.
 Who Should Attend:
Large account and key account sales people, B2B sales executives, anyone who sells to the 1.5 billion people on Facebook or the 250 Million  business owners, CEO's, COO's,  VP's of Sales, sales management, marketing personnel that work with or support sales organizations and anyone serious about building a competitive and current sales organization.
What people say about Shane Gibson's social selling programs:

"The social media bootcamp was truly worthwhile. Shane is a captivating presenter that was able to tailor the examples and discussion to the individuals and their organizations, allowing each participant to leave with real world tools for understanding, implementing and improving their social media channels. I entered the day feeling a little overwhelmed with how little experience I had working with social media. After breaking down each social media platform in an easy to understand, in-depth presentation, I left feeling confident with the knowledge and tools I gained at the workshop."
– Brendan Matthews, Manager – Business Operations, Canada Snowboard

"As part of growing our Dealers and growing our brands, we have brought Shane Gibson and his team from "Socialized" in to present and teach "two years in a row;" to address our more than 180 Dealers on social media and social business. Their insights and strategies are always cutting edge and bottom-line focused
-Don Elkington, CEO/President Coast Spas Group (World's Best Built Spas)

"Shane is a natural CSO…he makes the art of selling using Social Media look very easy and natural. Shane has since spoken to ACL in two other Sales Kick Offs and worked with our Marketing team on social media solutions. Expert, high integrity, creative, personable, and reliable, are also words I would use to describe Shane."
– Victoria Darnbrough ACL

"Most conversation around the value and benefits of social media has been centered around the Marketing function. Shane Gibson is the foremost expert I know in the area of social media as a supercharger of Sales. A master trainer, speaker and thought leader, Shane helps major companies leverage social tools to drive revenue. I highly recommend engaging him to help socialize your business."
– Eric Weaver, Senior Vice President – IPG Media Brands – Spring Creek Group

"When it comes to the realm of social media Shane has his fingers on the pulse. Shane is always at the forefront of what is going on as can be clearly seen through his 2 books (Sociable and Guerrilla Social Media Marketing) on the topic. His style is easy to follow and always interesting. If you haven't read the books yet, I highly recommend them both and if you ever have the opportunity to hear Shane speak on the topic of Social Media I strongly suggest you do so. I will be worth your while"
-Marc McPherson, Senior Manager – Marketing – Go to Market at Yellow Pages Group

"I attended one of Shane's Sociable seminars. I emerged with a much more thorough understanding of how social media can work effectively within a commercial environment. I was particularly impressed by his ability to make sense out of a high volume of material without making you feel overwhelmed. He also taught in relaxed and personable fashion, which made it seem as if you're being taught by a friend as opposed to an instructor. I highly recommend Shane for seminars or anything he has to offer."
– Chris Dugal, Finance Manager at Jim Keay Ford Lincoln
Contact us using the form below for booking information and rates: