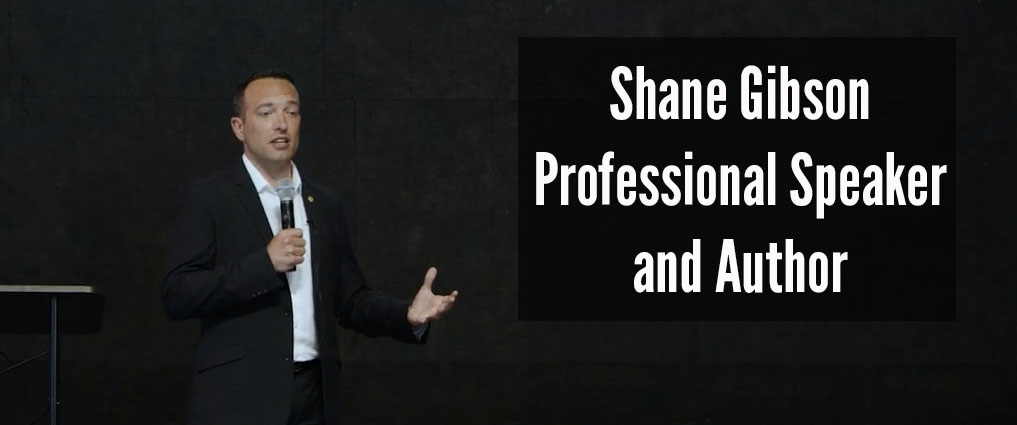 Looking for a keynote sales speaker for your next conference? You have a lot of great speakers and authors to choose from, so why choose Shane Gibson to keynote your next conference?
Here's 9 reasons why Shane Gibson is unique in the marketplace:
Global perspective: Shane Gibson has presented to audiences in Canada, USA, South Africa, Zimbabwe, Chile, Columbia, India, Malaysia, and Dubai. The principles and methodologies he presents are applicable in any environment.
Track record: Over the past 22 years Shane has presented his sales and marketing strategies to over 100,000 people during the best economic situations to the worst economic situations, from small towns to the worlds biggest cities. Shane delivers in any environment.
Leading edge technology insights: Shane was named #5 of the Forbes.com list of "The Top 30 Social Sales People in World" – his insights into harnessing social media and digital tools for selling is rarely surpassed.
Published Author: Shane co-authored Guerrilla Social Media Marketing, Sociable! and Closing Bigger with Jay Levinson, Stephen Jagger and Captain Trevor Greene. Not only does he write great books – he writes them with great people.
Unparalleled content and customization: Shane isn't one of those speakers with one book or a one-hour monologue to present. He has personally written and developed 3 books and corresponding 2-day boot camps for each. His depth and ability to customize his keynote speeches for each audience means the message will both entertain and meet your specific business goals.
Enterprise Selling Systems: Shane is the contributing author to The Complete Sales Action System (25 training modules) and Master Trainer in the Managing Complex Business Relationships System both published by Knowledge Brokers International and Bill Gibson. These systems have been implemented and used by organizations like Ford Motor Company, BMW SA, SIEMENS, Zurich Life, and dozens of other organizations on 5 continents.
A People Developer Not Just a Sales Speaker: Shane Gibson is a certified facilitator or Consulting Resource Groups full suite of leadership, sales, personality and health and wellness assessments and training programs. Not only can he address your sales challenges but he can help transform and evolve your leadership capacity and culture.
Guerrilla Certified: Shane is Canada's first Certified Guerrilla Marketing Master Trainer, personally trained and certified by Jay Conrad Levinson and Guerrilla Marketing International. With this guerrilla insight Shane brings both enterprise level savvy and in-the-trenches insights to his talks.
Proven World Class Speaker: Some of the organizations Shane has spoken for the Ford Motor Company, Corning Cable Systems, The Toronto Board of Trade, The World Brand Summit (India), HUB International Insurance, Sun Life Financial, BMO Financial, The Greater Vancouver Board of Trade, The US Department of Commerce, The Apple Specialists Marketing Cooperative, Manitoba Motor Dealers Associations, Seminarium Chile & Colombia, CMA BC / Canada (now CPA), and dozens more trade associations, non-profits, associations and governments.
Click here for Shane's full bio
Following are some of Shane Gibson's most popular seminar topics:
Driving ROI with Social Selling
Social media and social networks have become vital sources for prospecting, lead generation, client engagement and service. In fact a recent study of over 500 sales professionals found that 72.6% of sales professionals that use social media outperformed their peers that don't.
In addition to social media literacy and insights today's sales organizations need a bullet-proof sales process and strategy as well. The line between sales and marketing strategy as well as customer and vendor has become blurred. Today's sales and marketing processes must be aligned and customer centric.
In this fast paced keynote Shane Gibson will share with you:
The 9 Immutable Rules of Engagement in social media and social selling
The 5 Key Steps of the Social Sales Funnel
How your social graph can help you close deals and generate leads.
Sales hacks for LinkedIn, Twitter, and Facebook that will fill your sales funnel
How to become an expert content curator that can build credibility and attract business
Key social search and social sales and monitoring tools to find opportunities, gather business intelligence and keep your sales process organized
How to Close Bigger, Complex Deals
Closing bigger deals is a process not an event. The path to consistently close large accounts is about having a solid proven process to attract, develop and close large accounts – and then working that plan intensely.  If you're looking to attract larger clients, increase the average size of your deals or just shorten your sales cycle this event is for you.
Shane Gibson has put together a condensed keynote presentation based upon his Managing Complex Business Relationships Boot Camp.
In this session you will learn:
"The 8 Deal Big Deal Killers" you must avoid
How to navigate the "Power Player Network" and the 7 major pitfalls that exists in every big deal
How to systematically solidify long-term business relationships
Identifying the 5 biggest holes in every sales funnel
Knowing when to break the rules to land the business
LinkedIn Success
LinkedIn numbers over 380 million members which includes every Fortune 500 company, major government organization, most entrepreneurs in major city centers and 50% of recent university grads in North America. It represents a sea of opportunity for those people looking to attract prospects, retain clients and grow our revenue base.
Many of us are already busy – what we need to succeed with LinkedIn is a strategy that is easy to implement and can executed in a time efficient manner.
In this fast paced keynote presentation Shane Gibson will show you and your attendees:
How to go from a product peddler to thought leader and trusted advisor using LinkedIn updates, groups, one-to-one conversations and personalized connections
How to build a media-rich LinkedIn profile that builds credibility and sells for you
How to prospect and make connections using LinkedIn
LinkedIn tips on saving time while keeping your target market engaged
LinkedIn Search and LinkedIn Groups best practices
Tools and Tips for increasing your contact base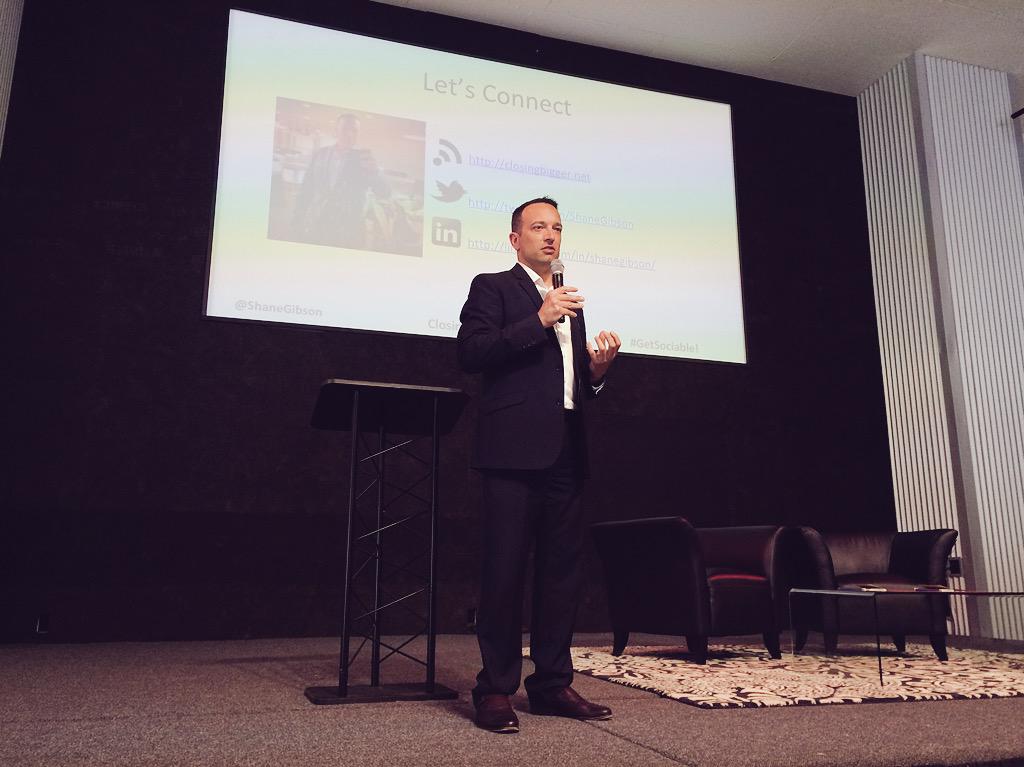 "Shane is a natural CSO...he makes the art of selling using Social Media look very easy and natural. Shane has since spoken to ACL in two other Sales Kick Offs and worked with our Marketing team on social media solutions. Expert, high integrity, creative, personable, and reliable, are also words I would use to descibe Shane. His biggest asset is his energy...he is a very dynamic speaker and trainer. I would recommend Shane anytime."

Victoria Darnbrough, Learning and Development Manager | ACL Services Ltd.
Please fill out the form below for more information on Shane Gibson's seminars and availability: