We are here at the
Social Media Mastery
conference in Vancouver, hosted by
Ricky Shetty
, and Shane is going to walk us through creating an effective, powerful, and efficient social media strategy. The sub-heading is, "Learn how to take the first critical step and develop a Social Media strategy for what you want to accomplish." For more advanced steps, you can download his ebook, "
12 Amazing Apps and Hacks for Sales and Social Selling
."
Ricky is introducing him, telling everyone he normally gets $5k for a speech, but this time we gave him a mug instead. But it has his name on it!
My goal here is to walk you through building a magnetic brand. I got into social media by necessity. I launched a sales training business, old school spam, eg fax blasting, and I didn't even have software. Then I learned about Internet marketing, and then started blogging in 2002, podcasting in 2004 and that started driving my sales training business, but then clients wanted to know how to do that, marketing on social media, so I got dragged into online marketing/consulting/strategy. In 2009 I wrote a book called Sociable, then Guerrilla Social Media Marketing, and still doing a ton of sales training, and now sales and social media met in the middle in social selling.
Selling is "creating an environment where an act of faith can take place." Our goal is to have someone buy something from us. I set the intent with all content and activity online to do that, the act of faith. Creating trust is critical, it's value added frequent engagement consistently over time. More value plus more time equals more trust.
The Exponential Influencer Strategy
Building a magnetic brand
the 3 elements of thought leadership
the 5 stages of consent
the 9 immutable laws of social selling
recruiting and connecting with influencers.
Most car buyers come in knowing 80% of what they want already, they've done their research online. That whole buyer's journey is happening before they meet us in the first place.
First build yourself as a thought leader, and then make connections with other thought leaders to leverage those relationships.
Gary Vee says, "Saying you don't believe in social media is like saying you don't believe in the internet." If someone doesn't get that, don't work with them. Social media ties everything together in the background. Your content will get repurposed, shared, built upon an analyzed. Social impacts everything we do whether we realize it or not.
A great thought leader creates and curates great content. Not what YOU think is awesome, what your audience things: solves their pain, or at least entertains them. I know lots of great content creators who nobody else knows about. Pumping out content is not enough.
You need to have relevant, engaged conversations. Automation and pushing and channels and so on…isn't it. It's not about being followed by 50k people. It's about the true relationships you build. Conversations are two way. Respond to blog comments, reply to tweets, or even go IRL.
Building community is about doing something bigger than yourself. This conference is an example of that. "What can I do bigger than my brand that will benefit other people, not just from the content, but from meeting each other."
Most marketers are doing one of these above, not all three. They might be great cheerleaders and chatting, but not creating content. Or they're just creating brand content but not doing anything bigger than your brand.
The core of being a thought leader is what you're really excellent at, educated at, and passionate about.
The Five Stages of Consent: our social sales funnel.
Discovery: they find you on the internet. Or here, did you bring business cards? You have to be memorable! Can they find you? SEO, ads, social shares.
Consumption: once they discover you, are they able to consume great content? That consumption will fire off a signal, Communication: they'll like it, tweet it, share it. Until then we don't know them. Then you can identify them and then you can connect. And then we get one of several types of consent, eg let's get to know one another, or 'pitch me' or whatever. You need several types of strategies to deal with different kinds of consent. You need to honour that by really relevant communications.
Are you on Yelp? Have you got some good reviews? In Google Places? Are people sharing your content? Are you running ads or contests? Social ads and retargeting, SEO, all major social media profiles, guest blogging/writing, press releases, writing reviews, in-person networking.
Consumption: Tell stories because stories aren't boring – Jay Conrad Levinson.
Do you recognize this guy? The blank avatar, the egg, the logo, the paper bag over your head. When I google you, I better see YOU there. What have you curated on the web that's consumable. Your social graph is now your business card. Every one of your social profiles is now a landing page. Put your contact there, make it interesting. Make it you. Shane uses the example of Sebastian Albrecht, shows off his Google results. People are drawn to the personal. Put personal info in there. A client reached out and her first question was "What lake was that you were hiking by?" If you're identifiably human, you have an advantage. Make it consumable, make it interesting.
I was talking to a client and asked "do you need anything from me" and he said, "No, I got it all from the LinkedIn profile." And that's how it should work, it should tell your stories.
Real time instant gratification is huge. Using the example of Teri Conrad's FB Live video. Twitter's great initial advantage was it was almost the first realtime social network. Teri got 2500 views in three or four days. How hard is it to get that on a YT video in two or three days? Pretty difficult.
What's hot: right now, live, realtime, multi-conversational content; deep content (reports, entire talks, how-to's, etc) is critical in the B2B space; research-based content.
Know your audience and nanotribe, which is smaller than a niche, eg women small business owners in the spa industry in metro Vancouver. The more your content can speak to a specific niche, the better. You can add up four or five niches and live off that.
Monitor, listen and learn. You need a listening strategy. Create and curate info relevant to your audience. Use multiple platforms; when you use a new platform, you can often reach a whole new audience.
Don't just make noise! Your social output needs to be coordinated. If you just bang on keys you don't make music. A lot of our social media strategies are like that. It's not enough to hit the key, you've gotta know how to create a symphony.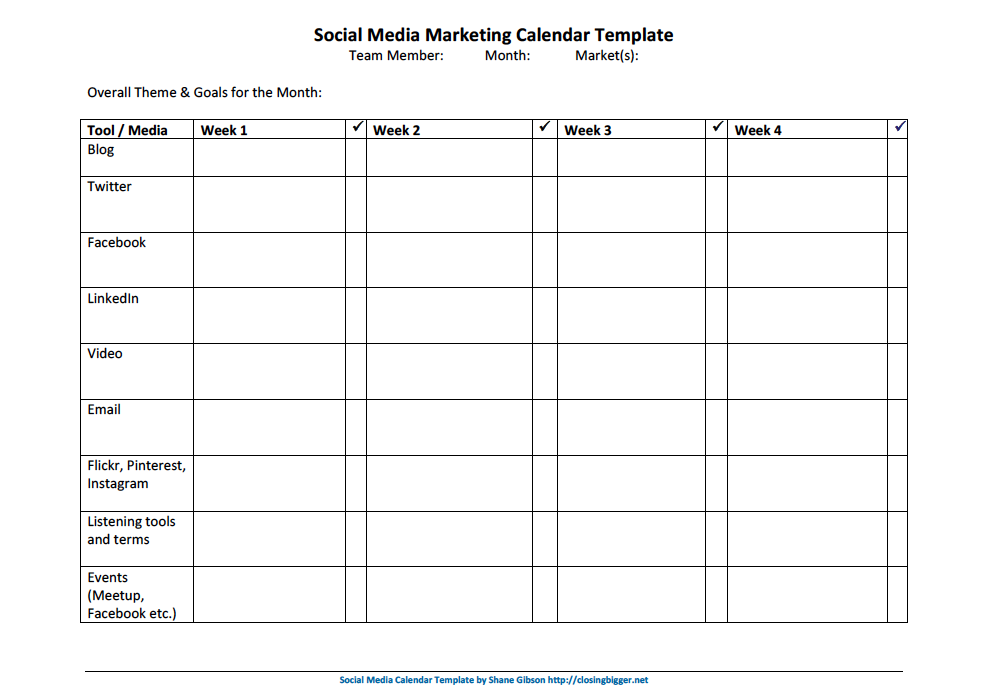 Here's the template for your social media calendar (PDF: FreeSocialMediaMarketingCalendarTemplate Word Doc: FreeSocialMediaMarketingCalendarTemplate). Pick a theme for the month.
Good content appeals to the heart, shareable, native to the platform on which it appears, and it breaks through the noise. Sometimes you have a similar message, but use the native tools.
If someone tweets at you or tweets your content, THANK THEM! Talk to them! When you create content and people interact with it, most people don't do anything with that, but TALK TO THEM. It's probably more powerful than the original content, when you deal with them directly.
Use outreach. Ask permission to connect once you are conversing. Connect on multiple platforms. Have an opt-in, register for updates, etc.
Seth Godin says things scale when they connect and are shareable.
9 rules of engagement
stop pitching, start connecting. Don't try to close too fast.
Doers win the game of social media. CONSISTENCY
It's not about you; once I started blogging about things that bothered other people, offering solutions, I got hired
Be fearless in your contribution to community; give away your stuff. The more you give the more you get.
Don't be a social spammer, engage
Be authentic; you don't have any choice
Be consistent
Amplify through community
Get Sociable! Use the internet to get off the internet. Deepen any social connection, eg from Twitter to LinkedIn or FB. Once you meet a person once, your content is more important to them forever.
I built leadership and listenership for my podcast by featuring other thought leaders. Peter Aceto, I talked to him on Twitter, then DMd him asking for an interview for my book, and then he asked me to help him with his book launch. That entire connection with the head of a major bank came from a conversation, not content.
Build alliances, build a community that's going to help your content go viral. You can make a brilliant video, but people won't see it unless you genuinely have a community behind it.
Master the 5 stages of consent, and HONOUR that. Community content and conversation are your path to thought leadership. Publish all the time in multiple mediums.