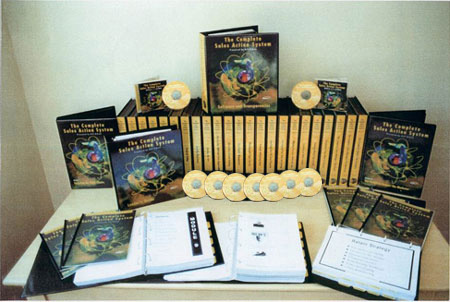 The Complete Sales Action System
Today's sales people, sales managers, and their organizations are under immense pressure to produce more revenues, and greater results in a tougher economy with fewer resources than they had in the past. More of the same type of training is not the answer. Organizations need sales and marketing tools, habits, and behaviours that will help them to focus on their core areas of profitability and strategic advantages.
The Complete Sales Action System™ is unique! It covers the complete spectrum of sales and personal marketing. The 25 coaching/training modules go from client research and targeting to actual selling skills and sales management systems. It explores the "how to's of becoming a personal marketer and expert planner and even gives sales management executives and sales/service personnel the tools to keep themselves productive and motivated.
This program is comprised of 25 sales and sales management modules:
Targeting the Right Clients
Database Selling (Frequency Selling)
Reading the Client
Rapport Building Strategies
Warming Up The Call
Breaking the Ice
Understanding Buying Motives
Proposal Selling
Handling Objections
Closing the Sale
Maximizing Additional Sales Opportunities
After Sales Account Building
Key Account Management
Winning With Super Service
Personal Marketing Tools
Launching Your Be Seen Program
Leveraging Your Time and Energy
Making Pressure Work For You
Focusing on What Counts
Starting Where You Are At
Storyboard Your Way To Success
The Complete Sales Manager – The Coach
The Complete Sales Manager – The Marketer
The Complete Trainer – The Presenter
The Complete Trainer – The Marketer
It is ACTION and COMPETENCY BASED and has MEASUREMENT and TRACKING COMPONENTS to ensure bottom-line results. The OPERATION and LINE DRIVEN implementation strategy creates a PULL THROUGH rather than a PUSH THROUGH process. Personnel in finance, service, administration, operations, at head office or in sales will benefit.
It can be the vehicle to drive a sales and customer focused culture through an entire organization.
The Complete Sales Action System™ can be taught in its entirety or utilized on a daily basis as a learning resource and management tool. There is no time limit for usage and the more people you train the less it costs per person because of the "one time" payment plan.
For more information on this course or to book a customized program please fill out the form below: